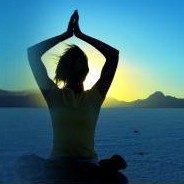 Meditation is so vital for relaxation, reducing mental stress, and in the quiet of the mind, increase the effectiveness of imagination, affirmations, etc. Meditation heightens senses and creates a feeling of well being.
You will want to find a comfortable place just to relax. Either at your place of employment or in the comforts of your own home, you can simply sit or lie down and start by taking a few deep breaths. As taught in ancient times, the deep breaths you take are through the back of the throat and the entire diaphragm expands. So inhale, drawing air first from the throat area through the nasal passages and into the diaphragm while counting one to four, hold for the count of two, and exhale one to four. Do it lightly, please, and you can get used to the breathing technique. (If you already have your own technique, use it). While doing 2 or 3 of the deep breathing, you will already notice that you are experiencing relaxation.
Now visualize a light above your head, similar to a small fluorescent light. Draw the light in starting at the top of the head. You want to feel that light (Universal Light) entering your mind, brain and into the facial muscles on into the tiny cells and tissues of the eyes. Gradually, talk yourself through the light entering your entire body all the way to the tip of your toes. It feels so good to enjoy this wonderful light energy. At this level, now, imagine and affirm for something you have wanted to solve or, perhaps, demonstrate. An example, at this time claim "I am a mental magnet attracting wonderful friends to me now." or "I am mentally and physically healthy and well and eat properly." (These are just examples and you, basically, can ask for anything you desire or you might have someone in your life you are concerned about and can pray for them and see them in the "Light". Your imagination will be more activated and so after imagining your desired result, finish up by counting yourself awake by 1 to 5, telling yourself you are happy, healthy and well. It is done and you can now go about your way.
Practice your meditation. Each time you do, you will feel a difference. Even others will notice how much better you look. You see, stress has an effect on all of us and meditation relieves stress.

Seven Charka Meditation
When the seven centers of your body are in balance, your life is in balance.
This is a guided meditation which includes the seven centers of the body with their correlating colors. Just simply relax and take an imaginary musical ride on a magic carpet and receive positive energy and light. Relaxing with this meditation brings a positive aura to your mind and body. Choose to, if you like, listen to the cd once or twice a week for relaxation, positive energy and over all well being.
Click here to listen to Seven Chakra preview.
Downloadable MP3 file
Price: $14.99
Price: $14.99