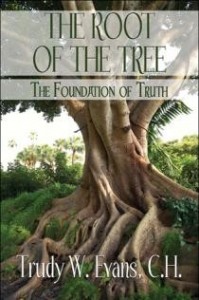 In The Root of The Tree – The Foundation of Truth author Trudy W. Evans, C.H. explains how the subconscious mind is a silent and invisible power. To date, its capabilities go unexplored and, often times, unexplained. This revealing self help book refers to the part of us, the subconscious, which collects knowledge and establishes patterns from birth that remain with us into adulthood.
We live our lives according to the attracting energy of the subconscious mind. This book will help you to understand that these patterns are flexible and can be changed. The Root of the Tree goes beyond those established patterns. Spiritually, all of us are meant to be fulfilled and, until we learned otherwise, our soul dictated that message.
In easy to understand language, you are guided through explanations, techniques and exercises that lead you to a more fulfilling life. You can change your patterns, rise from poverty, love and be loved properly, lose weight, and live the life you have always wanted to. Click here learn more and to buy The Root of The Tree
I have personally read all of the books below and recommend any of them as wonderful tools to improve your life.